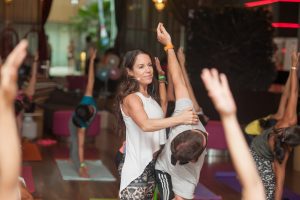 MURFEST aims to awaken the Urban Spirit within every individual to live
a balanced and harmonious lifestyle will continue on its objective to provide
a platform and space for self-discovery, self-mastery and knowledge through
a variety of wellness practices through workshops & a dance fitness party.
"MURFEST has come a long way in establishing the mindset of healthy living
through wellness activities and we are continuing this effort to further
implement this through MURFEST. This year, we are proud to collaborate with
industry experts to further enhance the festival content," said Shobie Malani,
MURFEST founder.
The 3-Day Festival provides participants the journey to explore and
experience various wellness related workshops, certification programs,
marketplace and other wellness related activations. Another highlight to look
out for at MURFEST would be the GloKL | Dance Fitness Party featuring top
Salsation trainers in the region including its founder Alejandro Angulo through
the collaboration with 360 Active Studio and will take place at The Plaza,
LimKokWing University, Cyberjaya.
Participants to MURFEST 2017 can also expect other new introduction into the
programs including Master Classes workshops and free for all community
based activities. JustBe Markets is a one-stop health and
wellness market-space which showcases the best in organic, homemade and homegrown wellness products.
Families with children can enjoy the KIDZ CLUB treats for children, a haven
that not just harnesses their boundless energy but also caters to their
sensitive, growing emotional and mental needs.
At MURFEST 2017, the Association of Malaysian Spas (AMSPA) will host a 1-Day AMSPA Wellness Convention and the Women Empowerment Festival will host a 1-Day Women Empowerment conference.
Festival tickets are now on sale starting from RM 69.00 to RM 399.00 at
www.murfest.com.
Sounds like an awesome weekend, that's not to be missed!