Pro Triathlon series to take place in Bali, Indonesia on 3 – 5 April 2020
Bali will once again be the focus of sports enthusiasts for the annual BCA Super League Triathlon Bali 2020 qualifier series. Kicking off on the 3rd of April, 2020 at the picturesque grounds of Ayodya Resort, Super League Triathlon (SLT) will be putting some of the world's best elite athletes through the ultimate physical test.

Ranked as one of the top island destinations in the world, athletes can look forward to experiencing sun-drenched stretches of pristine sand, clear blue waters, lush tropical forests and majestic volcanoes as they push their bodies to their sporting limits while vying for a coveted entry into the SLT Championship Series, the richest and highest profile race season in the sport, with only three spots on offer for men and three for women.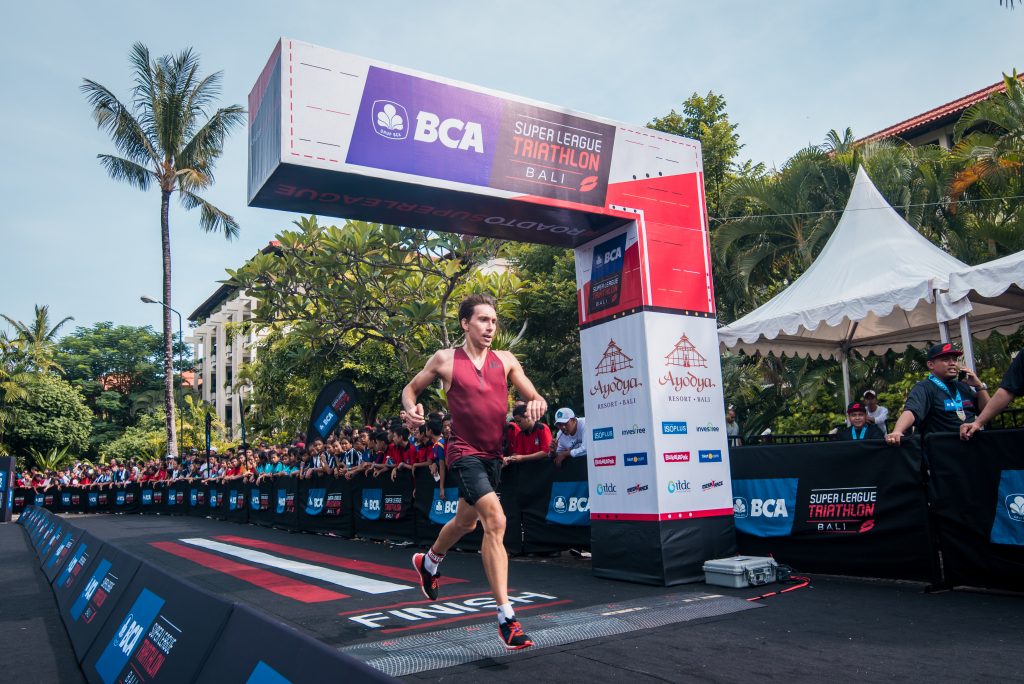 BCA Super League Triathlon Bali 2020 will offer both the Pros and amateur participants a varied and challenging racecourse through lush tropics with wet, hilly and demanding terrain unlike any other. The Pro course will follow the famous Enduro format with three continuous rounds of a 300m swim, followed by a 4km ride and then a 1.6km run.

SLT co-founder and four-time Triathlon World Champion Chris McCormack said: "Super League has reinvented the sport of triathlon, positioning it to the modern-day consumer with formats that are sporty and entertaining while ensuring the program is environmentally sustainable. Our format enables us to operate in an 800-meter loop so we can operate without disrupting the activity of the community. This has made us accessible to all ages and sporting levels. We are proud to bring triathlon to the masses."

Super League Triathlon Singapore/Bali 2019 was recently awarded the title 'Best Inaugural Race: Short Course' by AsiaTRI.com as SLT pushes the sport out of the shadows of niche play and into the realm of a genuine global sports entertainment property.

Santoso, Director of Bank Central Asia Bank (BCA) said: "We are very glad to be collaborating with Super League Triathlon once again – an event that attracts athletes and sports lovers in Indonesia. Besides increasing the awareness of active living and highlighting the dedication it takes to be a great athlete, the introduction of BCA Super League Triathlon Bali is a great platform to unit local and international athletes and sports lovers alike."
As a brand that champions and promotes healthy lifestyle, Super League is more than a Pro-racing platform, offering activities for a wider sporting community. Aspiring triathletes can sign up to take part in either a Sprint distance race of 700m swim, 20km bike and a 5km run or the incredible Enduro with two continuous rounds of 350m swim, 10km bike and 2.5km run. Both events are also available to race as part of a team with a relay option. Athletes can also enter Fun Runs over 2.5km, 5km and 10km, as well as a 'Splash and Dash' for kids, making it an epic weekend not to be missed!
Participants can sign up at https://superleaguetriathlon.com/event/slt-qualifier-bali-420/.  BCA card holders enjoy a special 30% discount upon sign up.

See below for the event schedule.

FRIDAY 3 APRIL
1500: QUALIFIER SERIES, PRO WOMEN
1630: QUALIFIER SERIES, PRO MEN
SATURDAY 4 APRIL
0630: BCA SUPER LEAGUE RUN 10KM
0730: BCA SUPER LEAGUE RUN 2.5KM
0800: BCA SUPER LEAGUE RUN 5KM
0900: BCA SUPER IDS SPLASH & DASH RACE
1200: QUALIFIER SERIES, PRO WOMEN
1300: QUALIFIER SERIES, PRO MEN
SUNDAY 5 APRIL
0700: BCA SUPER LEAGUE SPRINT TRIATHLON
0730: BCA SUPER LEAGUE ENDURO TRIATHLON
1030: AWARD CEREMONY