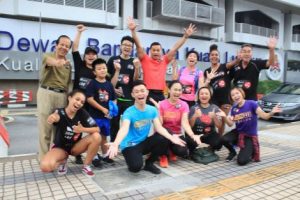 In the spirit of celebrating diversity this Malaysia Day, people from all walks of life are invited to move it at the premier #Move8 for Malaysia Day 7KM Walkathon held in conjunction with the KL Car Free Morning on 16 September 2018 flagging off from Dataran DBKL in the capital city.
Pronounced as "Move It", #Move8 Fitness Movement (www.move8.org) encourages people of all ages to start moving. The World Health Organisation has determined that Malaysia has the highest obesity rate among its regional neighbours. It's no wonder as Malaysian food is simply irresistible but it's so rich in carbohydrates that Malaysians need to move it more in order to stay healthy!
The #Move8 Walkathon series will be held quarterly kicking off on Malaysia Day, 16 September 2018. 7KM is equivalent to 10,000 steps, the recommended minimum number of steps one needs to take daily to achieve optimum health (estimated duration to complete the walkathon is 90-minutes). Some of the most popular streets in Kuala Lumpur capital city of Malaysia will be closed off to traffic during KL Car Free Mornings and the road will be shared between runners, walkers, cyclists, skaters alike! Enjoy the sights of old and new KL city as you'll walk from the confluence of the river city to the sky reaching KLCC Twin Towers. Don't be surprised to see horses pulling a carriage, tandem cyclists and more!
"#Move8 is a drive to encourage people of all ages to get moving and using a walkathon to achieve this objective; everyone and anyone across all ages can participate. Our inspiration is the community of fit seniors we know personally who hike, walk and run. Learning from them, we inculcate strong community values wherever we go and therefore at each event we produce we pledge to contribute to humanitarian aid charities. This Malaysia Day, we've selected the Malaysian Medical Relief Society (MERCY Malaysia) as the beneficiary," said AsiaFitnessToday co-founders Jasmine Low and Nikki Yeo.
"Move8 Fitness Movement was initiated by AsiaFitnessToday.com – an online platform for corporate companies to book fitness activities for their employees, or for the general public to book group training. We wish to foster good relationships in the communities we live and work in by using fitness events as a means to stay healthy and make new friends while doing good for society. We believe with #Move8 Fitness Movement we can align with the United Nations' Sustainable Development Goals: Goal #3 Good Health and Well-being for People. There are so many marathons and fun runs weekly, yet there are still many Malaysians who do not participate simply because they're not interested nor fit enough to get started. A walkathon makes it easy for anyone and everyone to join in and we encourage corporate citizens and government agencies, athletes and sportsmen to step in as fitness advocates and sign up their family and friends for a walkathon," adds Low.
The #Move8 for Malaysia Day Walkathon will be the first in a series that will be held throughout the country including Penang, Langkawi Island (State of Kedah), Cameron Highlands (State of Pahang) and Kundasang (State of Sabah). There are also plans to expand the walkathon into the ASEAN region. Each edition of the #Move8 Walkathon will be made appealing to international and domestic travellers as the selected locations are also some of Malaysia's hottest tourism destinations. Each #Move8 Walkathon in the series will also hold a different theme in accordance to location. Participants who successfully complete the entire walkathon series will receive a special prize to mark their achievement by Malaysia Day in 2020.
The #Move8 Fitness Movement is conceptualised by AsiaFitnessToday.com (AFT) – a fitness startup incubated by experiential events company GoInternationalGroup.com, a Cradle Coach & Grow Program grant recipient.
#Move8 Malaysia Day Walkathon's official partners are KL Car Free Morning, Kuala Lumpur City Council (DBKL) and MultiGreen Events, the initiators of KL Car Free Morning. Prize sponsors include Amnig, ICON Fitness, Jump Street Asia, Meesha Sukira and Nusantara Bullion Exchange. Meanwhile, event partners SonneAire hybrid air-conditioning systems and award-winning portable toilet Ecoloo (both Cradle CGP recipient companies) have joined in to assist #Move8 event organiser GoInternationalGroup.com in providing sustainable events solutions.
Participation fees are RM50 for all participants and they will receive a commemorative 999 silver coin, breakfast, a goodie bag as well as an entry to a lucky draw. From the fees, 10% will be donated to MERCY Malaysia, a non-profit organisation that provides humanitarian and medical assistance in Malaysia and overseas. Closing date is on 12th September 2018 and tickets can be purchased online at: www.move8.org.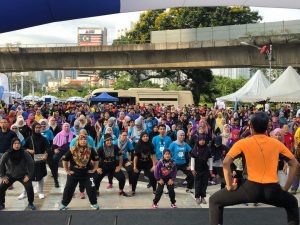 Aside from the #Move8 for Malaysia Day Walkathon, AFT also hosts free Zumba on the first Sunday of the month at the KL Car Free Morning in Kuala Lumpur and the 100 Day Fitness Challenge where groups of 30 people will be coached to be fitter and healthier versions of themselves in 100 days by certified fitness trainers.